Elizabethtown man arrest in connection with Jan. 6 riot at Capitol
Another Kentucky resident has been charged after a Pro-Trump mob stormed the United States Capitol building on January 6th, this time an Elizabethtown man.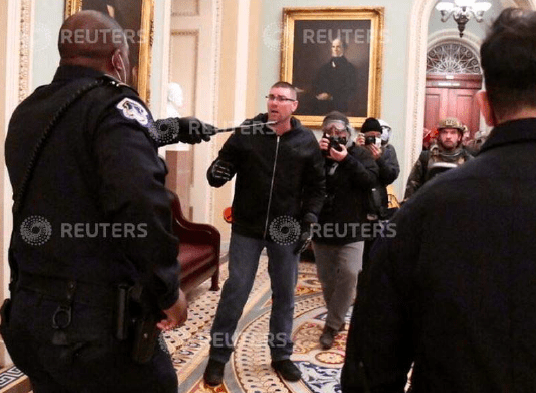 An criminal complaint filed on Sunday night charges Elizabethtown resident Michael Sparks with obstructing law enforcement, violent entry and disorderly conduct on Capitol Grounds, as well as knowingly entering or remaining any restricted building or grounds without lawful authority.
The charges stem from several tips received in the days following the events on Capitol Hill. The first tip, filed on January 7th, alleges that Sparks had been one of the first to enter the Capitol Building. The first tipster described themselves as an acquaintance of Sparks and had overheard his plans to travel to Washington D.C.
The first tipster saw videos and pictures of the incident, identifying Sparks in several of them. One notable instance was the widely-circulated video showing a United States Capitol Police officer leading protesters up a staircase, away from the Senate chamber. Tipster 1 identified Sparks as one of the individuals shown in the video.
2 additional tips were sent in, with the third identifying Sparks in several images, including climbing into the Capitol Building through a shattered window and remaining in a connecting hallway.
Tipster 3 also sent various Facebook posts from Sparks' account out of concern, in which he referenced the January 6th rally at Ellipse Park, as well as a post claiming that Donald Trump would remain President for an additional term.
At this time, it is unclear if Sparks has been taken into custody by authorities.
Applications for Nolin RECC scholarships now open
Applications are now open for annual Nolin RECC scholarships. This year, the cooperative is offering 8, $1,500 scholarships, as well as the Bob Wade Memorial scholarship, all a part of the co-op's mission to advance educational initiatives.
Scholarships are open to those 21 years and under who live with a Nolin member. Applications, as well as more information, can be found by going to Nolin RECC's website.
EPD investigating after Monday robbery
Police are investigating after a robbery in Elizabethtown late Monday morning. Police say it happened at the Fast Pay Day loans located on West Dixie.
Anyone with information on the robbery is asked to contact police or the Hardin County CrimeStoppers.
COVID-19 cases see slight decline on Monday
Yes, while it might be a Monday, the state of Kentucky continued to see a decrease in Covid-19 cases. Yesterday, the state reported 1,998 new cases of the virus across the Commonwealth, as well as 40 new virus-related deaths. The state's positivity rate continued to remain steady for the most part, now at 11.6%. Locally, Hardin county tallied only 8 cases Monday, and LaRue added 1. Yesterday's report did not include any new cases from Meade county.
Ft. Knox changes HPCON level
After an extended period, Fort Knox officials are lowering the post's health protection code today, down to level Bravo
Previously, officials announced that many community based activities and locations, including Fort Knox schools, would re-open today. More information on reopening schedules can be found on the Fort Knox website.